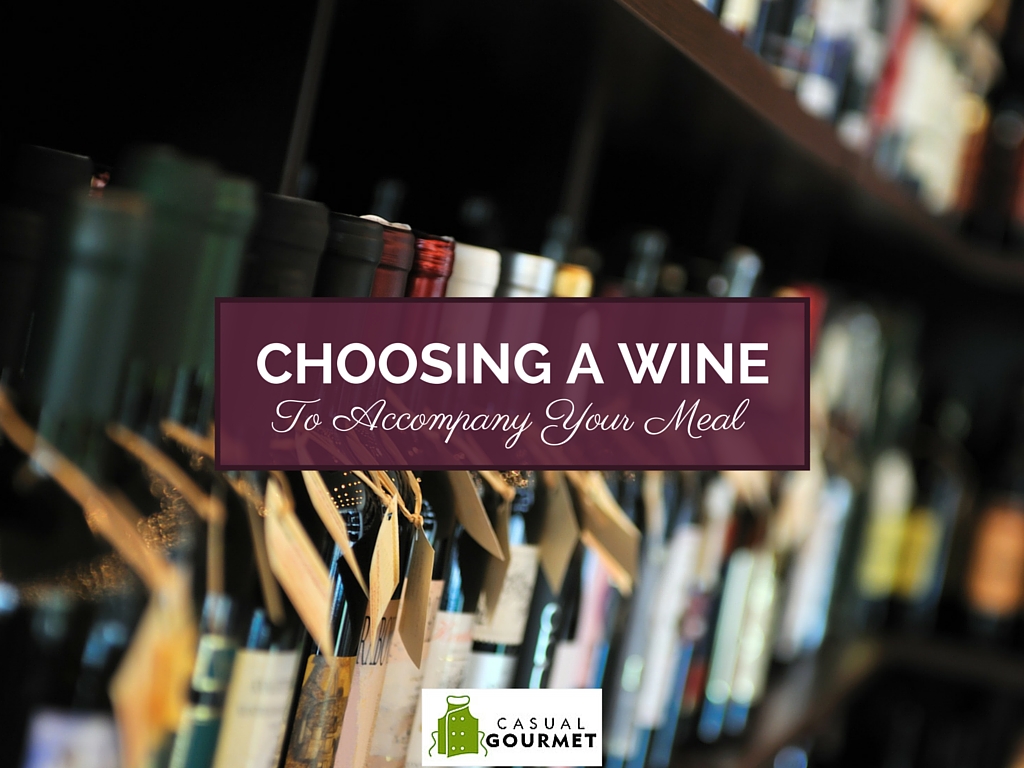 Perfect Pairings: Tips for Choosing a Wine to Accompany Your Meal
Creating amazing dishes and excellent, almost chef-like meals at home is always fun and your creative juices can flow freely; but many people struggle with making sense of food and wine pairings.  Rest assured, learning to select the right wine for your meal isn't rocket science.  In fact, it can be an exciting, fun, and simple way to add a little extra life into your home cooking escapades.  Here are a few tips for selecting the right wine to accompany your meals:
Basic Rules of Thumb
Essentially, we can break wine down into a few categories (although many exist) for culinary purposes.  The most obvious separation is red and white; however, for pairing wine with food you should further differentiate wines into oak-aged, fruity, and dry to get started.  Of course, wine has many characteristics and each varietal of grape will yield certain olfactory and taste sensations. Understanding what traits each varietal of grape typically exhibits will help you choose a wine for your meal.  Once you've got an idea (either by experience or knowledge) of how each wine operates, you can better fit the appropriate wine to certain dishes.  A helpful hint here is to do some research of your own, and figure out what characteristics each varietal of grape commonly displays.
Pair Similar Flavors
Probably the simplest way to pair food and wine is to select wines that exhibit similar flavors of the dish you're preparing.  For example, a pasta dish with a lemon-based sauce would pair nicely with a citrusy Sauvignon Blanc or certain fruit-forward Pinot Grigios.  Contrarily, a smoked meat will likely need a smoky wine such as a Cabernet Sauvignon, a Malbec, or even an oaky Merlot.  Balancing the flavors of your dish and pairing it with an appropriate wine will mutually benefit both the wine and the food as each one will accentuate the characteristics of the other.
Spicier Foods Favor Less Alcoholic Wines
As you've already seen, no one wine is identical in any way.  This rule holds true for the alcohol content of wines.  All alcoholic beverages start out as some form of sugary liquid.  The higher the amount of sugar in the must (unfermented wine), the higher likelihood that the finished product will have a higher alcohol content.  With that said, different variables can affect different fermentation rates and characteristics.  Lower alcohol wines pair well with spicy foods simply because alcohol accentuates the oils in spicy food.  Also, off-dry (or less fermented) wines tend to have a little less snap and can make for better choices when pairing spicy foods.
Pairing Meats with Wine
The commonly held belief that meats should be paired with wine is certainly based in fact.  In most dishes, the meat is the focal point of the entire entree and the most expertly prepared part of a meal.  As a result, pairing meats with wine is a natural fit.
In most cases, red meats should be paired with dry, tannic wines.  Typically, wines that fit that category include dry red wines such as Cabernet Sauvignon, Merlot, and Malbec although some white wines may fit the bill.  In the case of lighter meats such as fish, poultry, and pork, you should pair the wine with the sauce accompanying the dish as the sauce will be the primary flavor on the plate.  Also, since most sauces are created from wine bases, the simple solution is to use the same or a similar wine to pair with the dish.
Look Local
While geography may not necessarily paint the whole picture for less-developed wine regions, looking into the cultures each wine serves will give you a hint into what type of food to pair it with.  For example, beef, escargot, and wild mushrooms are often the fare of choice in the region of Burgundy, France, one of the most famous wine making regions in the world.  Potato tortellini, bruschetta, and olive oils are all quintessential Tuscan dishes that pair nicely with a Tuscan Chianti, Montepulciano, or Sangiovese.  With virtually any wine, you can look to the locale to find an excellent dish to pair it with.
Get Creative with a Professional Chef
If you're looking to learn more about food and wine pairings, look no further than the Culinary Institute of Virginia's Casual Gourmet cooking classes.  An evening with the Casual Gourmet professional chef-instructors can broaden your horizons and give you the tools and skills to make excellent dishes and pair great wines with them.  Don't worry if you aren't a master chef either, Casual Gourmet has cooking classes for all ability levels.
DISCLAIMER – Casual Gourmet makes no claim, warranty, or guarantee as to actual outcomes for past or current attendees. The Casual Gourmet website is published for informational purposes only. Every effort is made to ensure the accuracy of information contained on the CasualGourmet.com domain; however, no warranty of accuracy is made. No contractual rights, either expressed or implied, are created by its content.