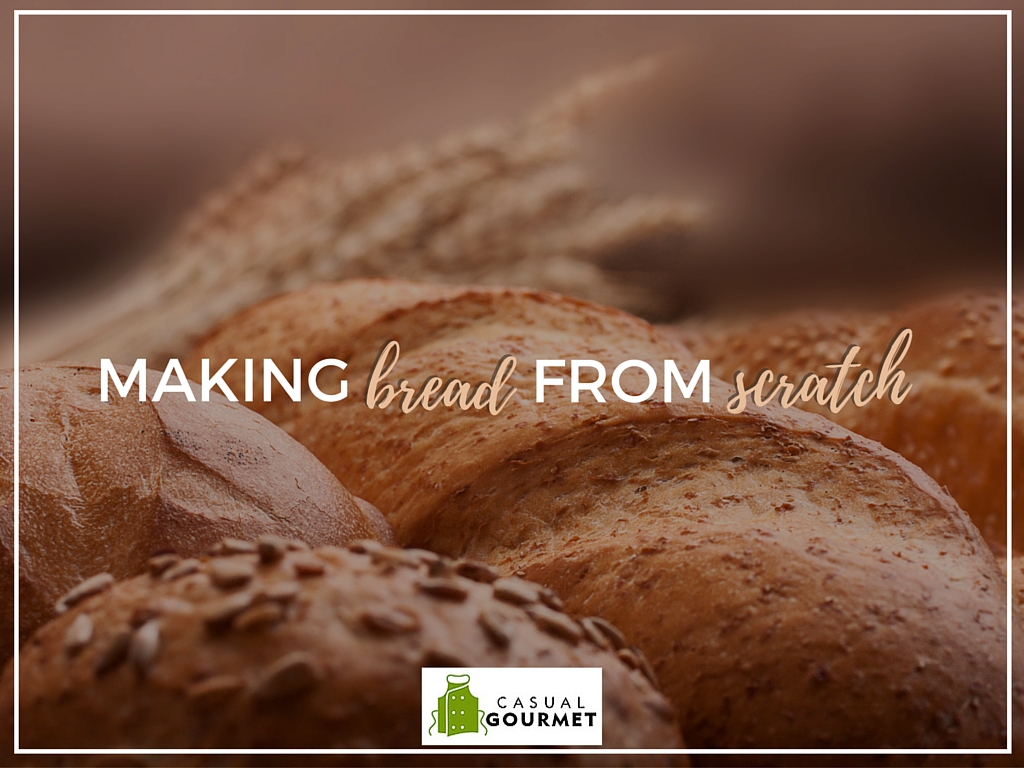 Making Bread from Scratch: 5 Quick & Simple Breads for Beginners
Baking bread from scratch is possibly the most viscerally exciting areas of cooking to explore. With a little time and effort, you can transform a bowl of loose powders and liquids into a mouthwatering loaf of fresh bread. Whether you've never baked before or have some mild seasoning in the process, read below for 5 recipes you've got to try.
Making Bread Yourself: On the Rise
If there is one component in baking that scares off new cooks, this is it. But there's no reason for this! A few quick principles will help your yeast bloom reliably. In the recipes below, when you see the instruction to "proof your yeast" follow these steps.
Open the appropriate amount of active dry yeast packets and place into a bowl. (If you plan on baking a lot, buying a jar of loose yeast is worth your investment.)
Add the amount of water specified in the recipe to the bowl. Most yeast manufacturers say this should be between 105 and 110 degrees Fahrenheit when you mix it into the yeast. As long as the water is warm, but not hot, you'll be ok.
Last, add a hefty pinch of sugar to the dissolved yeast and walk away.
Let it sit until you see a frothy blossom on top, then mix into your recipe as directed.
1. Naan
Naan is an excellent bread to take your first steps into making bread.
Proof 1 package yeast and 1c warm water in a large bowl.
Next, mix 1/4c sugar, 3T milk, 1 beaten egg, 2t salt. Slowly add bread flour until you have enough to make a soft dough, about 4 1/2c.
Cover the bowl with a wet towel and let rise for about 1 hour.
While the dough rises, finely chop 2-3 cloves garlic. After the dough has doubled in size, punch down and work the garlic into the dough.
Pinch out roughly golf ball sized handfuls of the dough and roll into balls. Cover these balls and let rise for about 30 minutes.
When the balls have roughly doubled in size, melt butter in a frying pan. Take one ball at a time and press flat with a pancake turner.
Cook until golden brown on each side, adding butter as needed.
Serving Suggestion: Serve with a nice curry. For a truly decadent treat, use two naan as buns for a hamburger
2. French Bread
To get started making French bread proof 2 packets yeast in 2c warm water.
Then add 1T vegetable oil, 1T sugar, 2t salt, and about 3c flour.
Using a stiff spoon, mix this for between 3-5 minutes until well combined. Slowly add 2c flour until dough is very stiff.
Turn the dough out onto a well-floured surface and knead for about 10 minutes.
Transfer kneaded dough to an oiled bough, covering all sides, then let rise until doubled, covered with a wet towel.
After dough is doubled, punch down and separate into two long, slender loaves, about 3″ across at most.
Preheat oven to 375 degrees.
Place loaves onto a greased cookie sheet, cover, and let rise until doubled.
Remove covering and bake for about 10 minutes. Remove bread from oven and make three diagonal slashes along the top of each loaf.
Return loaves to the oven and bake for 20 minutes more.
Serving Suggestion: Slice bread into disks and serve with olive oil mixed with your favorite spices.
3. Sandwich Loaf
To make this classic bread, proof 1T yeast in 2c warm water.
Next, add 2T sugar and 1t salt, then mix in 5c flour until you have a thick dough.
Gradually add 2 1/2T softened butter in small pieces then knead the dough for 10 minutes.
Form the dough in a ball and place in an oiled bowl, cover, and let rise for 1 hour.
Punch down the dough and knead in the bowl.
Form the dough into a ball and place on a floured work surface.
Cut into two pieces then slowly work each piece into an oval, repeatedly folding the dough into itself.
After the dough is shaped, place into a lightly greased loaf pan.
Leave the loaf pans to rise for 1 hour, preheating your oven to 350 degrees.
After the dough is risen, bake for 35-40 minutes, cool and serve.
Serving Suggestion: Serve slices topped with your favorite butter or jelly.
4. Rosemary Walnut Flatbread
Mix 3c warm water, 1 packet yeast, 1T salt, and 6c AP flour with a wooden spoon until thoroughly combined.
Dough should be stiff and difficult to work.
Cover, and let rise for about 2 hours.
If your dough seems unusually wet, that is fine.
Crush 1c walnuts and finely chop 3T rosemary, then work into the dough.
Preheat oven to 425 degrees. Liberally oil a pizza pan, then spread the dough across the pan.
Press your fingers through the dough until you feel the pan under your fingers.
Bake for 30-35 minutes.
Serving Suggestion: Serve slices of bread with your favorite jelly or butter.
5. Whole Wheat Pizza Dough
Proof 3/4c water and 1t yeast, then mix in 1/2t salt, 1T olive oil, and 2c whole-wheat flour.
Mix until you form a sticky ball, then cover and let rise until doubled.
Turn dough onto a floured surface and knead in extra flour until you have formed a neat ball.
Divide into two portions (each will make a separate crust).
Cover and rest for 30 more minutes, then work onto a greased pan into the shape of your pizza.
Bake at 375 for about 10 minutes, then flip and top as desired.
Bake with toppings for 10-20 minutes more.
Serving Suggestion: Underneath your favorite pizza toppings!
Learn to Make Bread from Scratch with a Professional Chef
If these recipes get you excited, then you would love to take one of Casual Gourmet's baking classes. Our trained chefs will give you instruction on the same level found in ECPI University's culinary arts program. The classes meet regularly, and there is no commitment to take more or fewer than you want to. Contact us today to schedule your first class-your cooking adventure awaits.
DISCLAIMER – Casual Gourmet makes no claim, warranty, or guarantee as to actual outcomes for past or current attendees. The Casual Gourmet website is published for informational purposes only. Every effort is made to ensure the accuracy of information contained on the CasualGourmet.com domain; however, no warranty of accuracy is made. No contractual rights, either expressed or implied, are created by its content.